FTSE 100 opens lower despite Next boost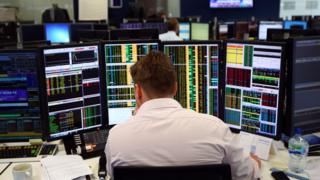 The UK market opened lower despite a boost for retail stocks following an upbeat statement from Next.
The High Street fashion chain reported a near 10% drop in half-year profits, but raised its full-year sales and profit outlook thanks to "encouraging" trading in the past three months.
Shares in Next jumped nearly 10% and rival Marks and Spencer was up 3%.
Despite this, the benchmark FTSE 100 index opened lower, dropping 8.47 points to 7,371.23.
Shares in Morrisons fell 3%, even though its latest results indicated that the recent revival at the UK's fourth largest supermarket was continuing.
Like-for-like sales climbed 3% in the six months to 30 July, while underlying profit rose almost 13% to £177m.
In the FTSE 250, shares in Spire Healthcare sank 16% after its half-year profits were hit by the legal settlement to compensate victims of rogue breast surgeon Ian Paterson.
On Wednesday, the company said it had agreed to pay £27.2m into a £37m fund for the victims. The payment contributed to a 75% drop in in Spire's half-year profits to £8.9m.
On the currency markets, the pound was little changed against the dollar at $1.3215 and was also flat against the euro at 1.1108 euros.