Ikea unpacks Jesper Brodin as new chief executive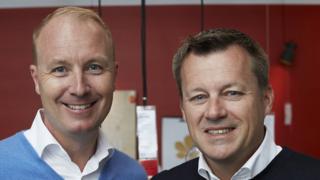 Swedish furniture and homeware firm Ikea has named Jesper Brodin as its new chief executive from September.
Mr Brodin is the company's head in Sweden and will succeed Peter Agnefjall, who had been in the role for four years.
Ikea is now based in the Netherlands and the new boss will work in Leiden.
"I believe we have many exciting years ahead and I am excited to be part of the rapid transformation of retail," said Mr Brodin.
"I am very honoured and excited about my new assignment," he added.
'Passion for retailing'
Mr Agnefjall said he will take some time off with his family before embarking on his next challenge.
Lars-Johan Jarnheimer, chairman of Ikea's parent company Ingka Holding, said: "I am convinced that Jesper's extensive experience and passion for life at home and retailing will enable him to successfully continue the remarkable work conducted by Peter.
"Under Peter's leadership, Ikea Group has expanded into new and crucial markets, accelerated our retail transformation in order to meet the changing needs of customers and taken our sustainability commitments further."
Ikea opened its first store in 1958 and is well known for selling ready-to-make furniture.
Last year 783 million people visited the company's 348 shops and 425 million its 45 shopping centres.
The firm also attracted 2.1 billion visits to its website.