Smacking has no place in modern Wales, says minister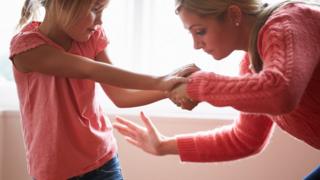 The physical punishment of children has no place in a modern and progressive Wales, children's minister Huw Irranca-Davies has said.
Ahead of a consultation due to start in January on a proposed smacking ban, Mr Irranca-Davies said the practice was "no longer be acceptable".
The comments have been welcomed by the children's charity the NSPCC.
But campaigners against the change in the law said a smacking ban would criminalise ordinary parents.
Mr Irranca-Davies' comments, re-affirming the government's intention to legislate for the ban, are some of the strongest made on the subject by a Welsh Government minister.
The proposed change to the law, which under current plans would go before AMs for consideration next autumn, would remove the "reasonable punishment" defence in the law on common assault.
Ahead of an event in Swansea to mark Universal Children's Day, Mr Irranca-Davies said: "Our understanding of what is needed to protect and support children and their families has changed considerably over the years, and societal norms have changed as a result".
He said: "It can no longer be acceptable in a modern and progressive society for children to be physically punished.
"It is right that as a government, we take action to protect children and support parents to use positive and effective alternatives to physical punishment."
Independent AM and UKIP Wales MEP Nathan Gill questioned how a smacking ban would be policed.
"I do not want any government to criminalise parenting and move one step closer to controlling every aspect of our lives," he said.
An NSPCC spokesman said: "Every child deserves equal protection under the law and should be protected from such draconian forms of discipline.
"It is wrong that a defence, which does not exist in a case of common assault against an adult, can be used to justify striking a child."
Changing the law, the NSPCC argued, would bring Wales in line with "dozens of countries".
But Lowri Turner, a spokeswoman for the Be Reasonable Wales campaign group which is opposed to a ban, said: "There is nothing progressive about saying regardless of the results of the consultation you are committed to pressing on with punitive legislation that we know will criminalise ordinary parents.
"Those calling for this change continue to use hysterical and manipulative language. They try to make out that a gentle smack on the back of the legs from a loving mum is the same as beating up your kids. They are being disingenuous because it is not."
"We urge all assembly members to listen to their constituents, to listen to the results of the consultation and explore ways of supporting them, rather than criminalizing them," she added.
Labour AM Julie Morgan had campaigned for the change in the law before her party agreed to pass new legislation.
Referring to Mr Irranca-Davies' comments, she said it was "very welcome to hear it said in such strong terms, because it signals that we've reached the stage now where we're not going to talk about it anymore, we're actually going to do it".
Wales will not be the first part of the UK to consider legislation on smacking – the Scottish Government is supporting a proposed law by Green MSP John Finnie.