Wonder Years star Fred Savage denies assault claims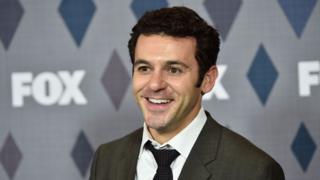 Former star of The Wonder Years Fred Savage has said assault claims made against him are "without merit and absolutely untrue".
The actor is being sued, along with 20th Century Fox, by a former colleague who says he assaulted her in an "extremely hostile" on-set environment.
Youngjoo Hwang was working in the costume department on TV show The Grinder and said the alleged assault happened in 2015.
Fox has also denied the claims.
'Profanities'
Hwang claims the studio covered up the allegations and indicated she would be blacklisted unless she kept quiet.
She says Savage was aggressive, intimidatory and constantly hurled profanities at female employees which culminated in the assault during a heated exchange.
"(Ms Hwang) explained to defendant Savage that she was simply dusting off dandruff on his jacket. In response, defendant Savage violently struck Ms Hwang's arm three times with his hand," lawyer Anahita Sedaghatfar wrote in the lawsuit, filed in Los Angeles on Wednesday.
She also claimed that Fox "essentially admonished" Hwang to "keep her mouth shut and not report the harassment and ultimate physical assault perpetrated upon her or she would 'never work in the industry again'."
Hwang is seeking damages and compensation over claims of assault, battery and harassment.
20th Century Fox said that Savage, 41, was cleared by an internal investigation.
In a statement, the actor – who played Kevin Arnold in The Wonder Years during the late 80s and early 90s – praised the "tremendous courage" of those who have come forward in the Me Too movement, and denied the allegations made against him.
'Unfounded claims'
He said: "I was made aware that a woman working in the costume department of a show I was on almost three years ago has claimed that I treated her harshly on set simply because she was a woman.
"Fox conducted an extensive internal investigation into her claims, a process in which I fully participated.
"Fox determined that there was absolutely no evidence to support these accusations. None of her claims could be substantiated because they did not happen.
"I have been working in the entertainment industry my whole life and have always endeavoured to treat everyone on any set I work on respectfully and professionally. While none of the accusations being levelled at me are true, I wholeheartedly support all people who feel they are being mistreated come forward and speak to human resources and those in charge.
"We have witnessed so much bravery from those speaking out recently, but I will just as boldly protect myself and my family from those seeking to tarnish my good name."
A spokesman for 20th Century Fox Television, which produced The Grinder – which starred Rob Lowe as an actor who decides to join his family's law firm when his TV series is cancelled – said it would defend itself "vigorously" against the "unfounded claims".
He said: "Fox takes all allegations of improper conduct very seriously. We conducted a thorough investigation into these allegations and found no evidence of any wrongdoing on the part of Mr Savage."
Follow us on Facebook, on Twitter @BBCNewsEnts, or on Instagram at bbcnewsents. If you have a story suggestion email entertainment.news@bbc.co.uk.