Flu patient levels rise sharply in hospitals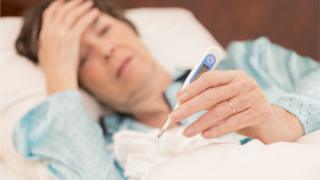 Hospitals in England are now seeing very high rates of patients with flu, according to Public Health England figures.
The rate of admissions rose by over 50% in the past week to 7.38 per 100,000.
GPs also saw a sharp rise in cases – up 78% on the week before – while deaths from flu remained static with 27 in the past week.
But PHE said the current levels of flu were "not unprecedented".
Prof Paul Cosford, medical director from Public Health England, said: "The levels of flu being seen are high and of course that is contributing to the pressures in the NHS, but they are not unprecedented levels."
He said also suggested the coverage of the so-called Aussie flu outbreak was a little misleading, saying that while it was circulating at "significant" levels there were two other strains that were also causing problems.