Scottish A&E waits at highest level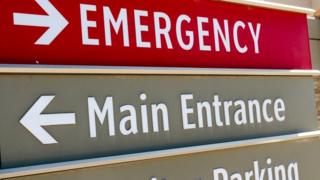 The number of people waiting more than four hours in Scotland's accident and emergency units reached record high levels in the last week of the year.
The latest weekly figures show that just 78% of patients across Scotland were seen within the target time.
This was well below the Scottish government's 95% target, and the lowest since the weekly figures began in February 2015.
In the same week in 2016 there were 92.5% were treated within four hours.
Four-hour-target
On Monday, First Minister Nicola Sturgeon said there had been "exceptional pressures" this winter largely due to the increase in flu cases but also due to the freezing weather.
NHS targets give hospitals four hours in which to treat and discharge or admit or transfer a patient.
In the week before Christmas the figure for those being dealt with in this time was 83.3%, up from the previous record low of 81.1% in the week before.
78.0% Target reached week ending Dec 31

83.3% Target reached week ending Dec 24

81.1% Target reached week ending Dec 17
PA
The latest figures, for the week ending 31 December, show there were 25,865 attendances at emergency departments across Scotland.
Of these, 5,686 were not dealt with within the four-hour target.
The statistics show that 1,156 (4.5%) patients spent more than eight hours in an emergency department.
There were 272 (1.1%) patients who spent more than 12 hours in A&E.
The worst performing health board area was NHS Forth Valley which saw just 57.3% within the target time.
Greater Glasgow (71.1%), Lothian (76.2%) and Lanarkshire (76.8%) also missed the target time in about a quarter of cases.
NHS Grampian (87.9%), NHS Highland (87.6%) and NHS Tayside (87.3%) were the best performing mainland health boards.
Case study – Allan Browne, A&E patient
Allan Browne was among patients affected by long waiting times during the festive period. He told BBC Scotland he went to A&E on Boxing Day with a suspected fractured ankle after slipping on ice.
"When I went it in it looked not too busy, but the woman at reception told me it could be as much as an eight hour wait to be seen. Eight hours is a long time.
"She said it was probably not broken because I was able to hobble about and told me it was up to to me if I wanted to hang about. I decided not to."
"After a week of not being able to sleep properly because the pain was so sore, I decided I am going to have to go back to A&E to see if I can get an X-ray and just see how long it takes."
This time Mr Browne was told the wait could be up to four hours.
"After about three and a half hours I spoke to a nurse," he said.
"She told me that I had fractured my ankle and and that I shouldn't have been walking on it."
Mr Browne believes the delay in getting proper treatment has lengthened his recovery time.
"For the week that I was walking around on that foot I should have had it strapped up. I should have had it stable, in the one position," he said.
He added: "I always hear the excuse that this is a 'seasonal problem'. But the season comes around every year. Can't they prepare better for this? Can't they provide more staff?"
Last month, BBC analysis of NHS data showed that fewer patients in Scotland were waiting longer than four hours in A&E than they did in 2012/3 in contrast to England where the number had more than doubled.
It found England had a 155% rise in long waits between 2012/3 and this year, up to 2.5 million a year.
Hospitals in Wales and Northern Ireland also saw an increase over the period.
In Scotland, the number of patients waiting more than four hours fell by 9% to just over 100,000.