Delay for Nasa planet-hunter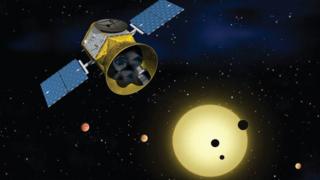 Unconfirmed sources say the launch of Nasa's Tess planet-hunter has been postponed and will not now lift off until Wednesday at the earliest.
The telescope was due to go up from Cape Canaveral in Florida at 18:32 local time on a SpaceX Falcon 9 rocket.
But the flight was called off some three hours before lift-off.
Sources said scientists wanted more time to check the status of the Transiting Exoplanet Survey Satellite (Tess).
The mission is expected to find thousands of new worlds orbiting the nearest and brightest stars.
Jonathan.Amos-INTERNET@bbc.co.uk and follow me on Twitter: @BBCAmos