Celebrities help replace stolen Plymouth voice machine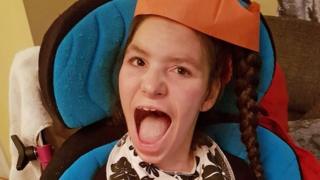 A teenager will get her voice back after celebrities help raise £6,000 to replace stolen equipment.
Miya Thirlby, 16 from Plymouth, has cerebral palsy, epilepsy and is deaf. She uses an adapted computer which helps her speak.
Her dad, Paul Johnson took to Twitter to appeal for its return after the machine was stolen from his car.
A host of celebrities including Paul Gascoigne, Alan Shearer and Dawn French shared the original post.
This led to a Just Giving appeal page being set up by Jamie Twite, which beat its target of £6,000 in less than 24 hours.
Former England footballer Gascoigne donated £1,000 to the appeal.
Mr Johnson said the thieves may have thought they were stealing a regular computer as it was stored in a laptop bag.
He said: "I'm not 100% sure the thief knew what it was but with the press and everything around it he must know now and where it is.
"For him to still not do anything about it is just heartless".
The original tweet has been retweeted more than 50,000 times since it was posted on 11 January.
Mr Johnson said: "It has been amazing, overwhelming. Gazza is a hero of mine."
The machine has pictures of her father, mother Kerrie Thirlby and her twin Macie and it says their names if Miya looks at the images.
Mr Johnson had hoped it would not be necessary to start a fundraising appeal as he had hoped the equipment would be returned.