Julian Assange: Warrant for his arrest upheld by court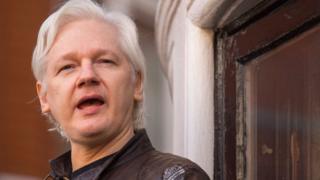 An arrest warrant for the Wikileaks founder Julian Assange has been upheld by Westminster Magistrates' Court.
The warrant was issued when Mr Assange, 46, breached bail conditions in 2012 by seeking political refuge at the Ecuadorean embassy.
He was facing sexual assault allegations in Sweden. The allegations were dropped in May 2017.
Mr Assange, who has been staying at the embassy since 2012, tweeted his "surprise" at the decision.
He argues that he would be extradited to the US.
Under the warrant, Mr Assange would be arrested as soon as he left Ecuadorean soil.
As there is not an extradition treaty between the UK and Ecuador, he cannot be arrested inside the embassy.
In her ruling, Judge Arbuthnot described Mr Assange as "a man who wants to impose his own terms on the course of justice, whether the course of justice is in this jurisdiction or Sweden".
"He appears to consider himself above the normal rules of law and wants justice only if it goes in his favour."
She added that she did not find Mr Assange's fear that Swedish authorities would extradite him to the US "reasonable".
He fears that he may be charged by US authorities for publishing classified documents on his Wikileaks website.
Mr Assange's lawyers said his arrest for failing to answer bail was no longer in the public interest but the judge rejected that argument.
"Defendants on bail up and down the country, and requested persons facing extradition, come to court to face the consequences of their own choices," she said.
"He should have the courage to do the same."
After the ruling, Mr Assange posted his reaction on Twitter, saying: "We are surprised.
"Judge went well outside what the parties presented in court. This seems to have led to many factual errors in the judgment."
A small group of supporters stood quietly outside the court after the ruling, holding banners reading "Free Assange" and "Assange Safe Passage".
Mr Assange's lawyer, Mark Summers, said his client was living in conditions "akin to imprisonment," adding that his "psychological health" had deteriorated and he was "in serious peril".
The court heard that Mr Assange suffers from a bad tooth, a frozen shoulder and depression.
The judge rejected these claims as reason to lift the warrant, saying: "Mr Assange's health problems could be much worse."
She also rejected findings by the United Nations that Mr Assange had been forced into imprisonment.