Jungle explorer Benedict Allen: I did not need rescuing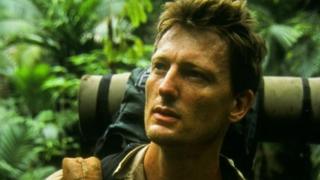 British explorer Benedict Allen has said he did not get lost or need rescuing from his expedition in the jungle in Papua New Guinea.
Speaking to his friend, the BBC's Frank Gardner, the 57-year-old said he had been struck by malaria for the sixth time and had encountered a tribal war.
He said his worst moment was making a video will for his young family – but he insisted he had not given up.
A search was mounted after Mr Allen missed several planned flights.
He told BBC Radio Four's Today programme he never took satellite phones or GPS with him on expeditions, but might he consider doing so in the future.
His family's distress at his apparent disappearance appeared across newspapers, TV and radio, and prompted the Daily Mail to send a helicopter into the jungle to try to rescue him.