Lincolnshire Police clear 150 canisters in mustard gas search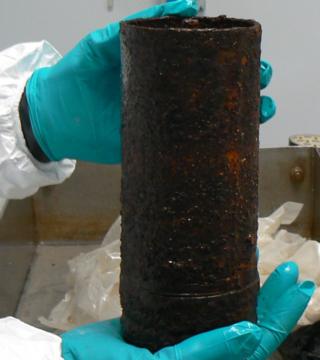 Dozens of mustard gas canisters have been cleared from two sites in Lincolnshire, police have said.
Officers said 140 had been recovered from Roughton Moor Woods, while 10 were found in Stixwould Lake.
A major decontamination operation is under way after gas canisters were first unearthed on 1 October, in which two people suffered minor burns.
Three people arrested on suspicion of possessing a noxious substance have been bailed.
Royal Navy and Army bomb disposal teams have been working with the emergency services using drones and sonar equipment on the search near Woodhall Spa.
Sonar images showing a crate of mustard gas canisters at the bottom of Stixwould Lake have been released, while water samples from the lake have been taken away for lab tests.
East Lindsey District Council said the area around Woodhall Spa would be fenced off while decontamination takes place.
A public meeting organised by the council was held at Petwood Hotel on Thursday to update residents.
Supt Phil Vickers, of Lincolnshire Police, told the meeting 22 different agencies have been involved in the operation.
A woman and two men were arrested after the initial find earlier this month.
The canisters found at Roughton Moor are believed to be from an RAF station and military base which was on the site from 1942 until it closed in the late 1960s.
Mustard gas was used as a weapon during World War One and outlawed by the Geneva Protocol of 1925.
The people burnt when they unearthed canisters had been digging for vintage bottles in the woods.