Russia election: Putin ready for 'constructive' dialogue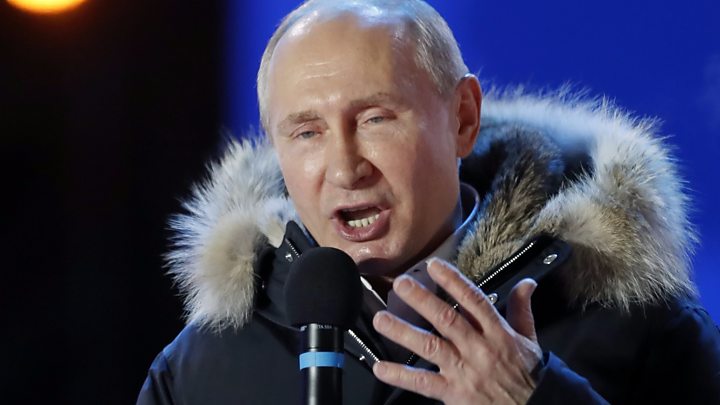 Vladimir Putin has said he is open to "constructive" dialogue with other states after being re-elected president of Russia with an increased majority.
"But of course that doesn't depend on us alone," he added. "Just as in love, both sides must show an interest or there will be no love."
Saying there would be no "arms race", he promised to cut defence spending.
Mr Putin officially won more than 76% of the vote in an election from which the main opposition leader was barred.
He was warmly congratulated by Chinese President Xi Jinping while Western leaders were more guarded in their reaction.
French President Emmanuel Macron wished him "success for the political, democratic, economic and social modernisation" of Russia but, in a phone call to Mr Putin, pointedly asked the Russian authorities to "shed all possible light on who was responsible in relation to the Salisbury attacks".
The UK government has blamed Russia for the poisoning in Salisbury of former spy Sergei Skripal and his daughter Yulia – an allegation Russia rejects.
In his conversation with Mr Macron, Mr Putin described the nerve agent allegation as "unsubstantiated" and said Russia was willing to hold a joint investigation, the Kremlin said.
The head of Mr Putin's campaign team, Andrei Kondrashov, suggested that the "groundless" British accusations had encouraged voters to rally around the president.
What are Putin's other priorities?
Speaking at a meeting with the defeated presidential candidates, Mr Putin said his top priority was economic growth.
Saying that Russia had to further strengthen its defences, he added: "I would like to tell you straight away that no-one intends to unleash some kind of arms race."
Mr Putin's boasts about his nuclear arsenal earlier this month, including the presentation of a video animation appearing to show missiles raining down on the US, drew international concern.
Fresh from his re-election, he said there were plans to cut the defence budget this year and next.
Was Sunday's election free and fair?
Mr Putin has ruled Russia as either president or prime minister since 1999 but his share of the vote in the last election 2012 was smaller, at 64%.
The main opposition leader, Alexei Navalny, was not allowed to stand because of an embezzlement conviction that he said had been manufactured by the Kremlin.
Mr Putin's nearest rival, the Communist Party's Pavel Grudinin, won just under 12%.
European observers said that while the poll had been conducted efficiently, there was a lack of genuine choice.
Video recordings from polling stations showed irregularities in a number of towns and cities across Russia. Several showed election officials stuffing boxes with ballot papers.
The independent election monitoring group Golos reported hundreds of irregularities.
At least one polling station video camera was obscured.
However, Ella Pamfilova, head of the Central Electoral Commission, said there were only half as many reported violations compared to 2012, and that none had been serious.
Sunday's vote was also the first in Crimea since Russia seized the region from Ukraine after an unrecognised referendum on self-determination.
According to the constitution Mr Putin is required to step down in 2024, but he could change the rules to eliminate term limits. After his win he laughed off a question from a journalist about standing in 2030.
How does the international community see it?
Mr Xi said relations between China and Russia were at their "best level in history".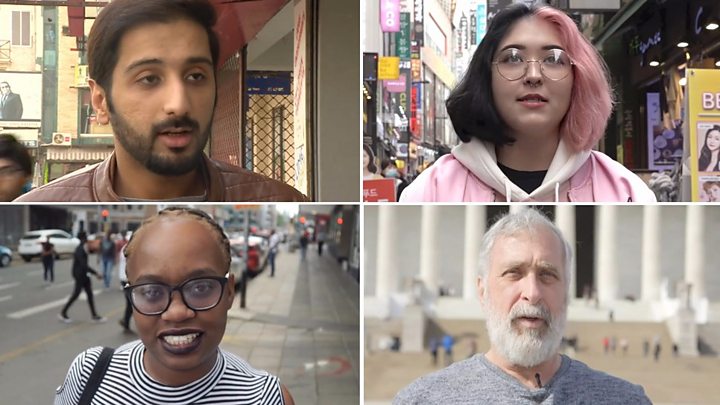 The leaders of Iran, Kazakhstan, Belarus, Venezuela, Bolivia and Cuba were among others who sent their best wishes.
German President Frank-Walter Steinmeier congratulated Mr Putin in his re-election and said he hoped he would use his new term in office to "counter alienation on our continent and between the peoples of Russia and Germany".
However, German Foreign Minister Heiko Maas was more critical, condemning the holding of the Russian election in Crimea and saying: "We assume that Russia will remain a difficult partner."