Sinn Féin leaders to meet Theresa May at Downing Street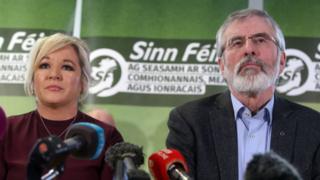 The Sinn Féin leadership is set to meet the prime minister at Downing Street.
Departing president Gerry Adams will be accompanied by the party's leader north of the border Michelle O'Neill and its vice president, Mary-Lou McDonald.
They are expected to tell Theresa May that instead of direct rule the British and Irish governments should deliver on equality issues like same-sex marriage and an Irish Language Act.
DUP leader Arlene Foster is also set to hold talks with Mrs May on Tuesday.
She has said Northern Ireland must not be used as blackmail in ongoing Brexit negotiations.
Mrs Foster accused some in Dublin and Brussels of trying to recklessly use Northern Ireland for their own objectives.
She said her aim was the restoration of the Stormont institutions, but warned that following Northern Ireland Secretary James Brokenshire's decision to set a budget, "further steps look inevitable unless there is a change of direction".
---
Analysis: Gareth Gordon, BBC News NI political correspondent
Talking to the Prime Minster is nothing new for the DUP: Her government relies on the votes of its 10 MPs to remain in power.
In the absence of a deal to restore power-sharing in Northern Ireland, the DUP says direct rule ministers should be appointed by Westminster.
Sinn Féin says that's a non-starter; it wants the UK and Irish governments to jointly deliver the introduction of same-sex marriage and an Irish Language Act.
The party has been unable to agree these in 10 months of talks with the DUP.
Theresa May is well aware of the arguments – which won't make deciding what to do any easier.
---
Northern Ireland has been without a devolved administration since January, when the governing parties – the Democratic Unionist Party (DUP) and Sinn Féin – split in a bitter row over a botched green energy scheme.
The parties continued failure to establish an executive means public services are starting to run out of money, so Mr Brokenshire decided earlier this month to implement a budget for the region.
Sinn Féin said the confidence and supply arrangement between the DUP and the Conservative Party had "compounded" the problems the parties faced.
Mrs May made the £1bn deal with the DUP after losing her majority in Parliament in June's general election.
One of the key issues on the agenda for both DUP and Sinn Fein meetings with Mrs May is the UK's negotiations to leave the EU – in which Northern Ireland's border with the Republic of Ireland remains a key sticking point.
On Monday night, the prime minster held a meeting with her "inner cabinet", after which it is understood there was broad agreement that the government should increase its financial offer to the EU as the UK leaves.
The meeting was held to try to make progress on stalled Brexit talks.
Mr Adams brought his party's ard fhéis (annual conference) to a dramatic closure on Saturday with the news that he would not stand again as Sinn Féin president – after 34 years in charge.